The Lana Learn DC team shares the seven elements it utilizes for an effective High-Impact Tutoring program.
As summer flies by, Lana Learn is gearing up to provide students with the support they need to excel during the upcoming school year. One powerful tool in this endeavor is our ongoing High-Impact Tutoring (HIT) program. With the support of this OSSE-funded initiative, Lana Learn is helping over 300 students in Washington, DC fill in academic gaps. According to the National Student Support Accelerator, "high-impact tutoring is an equitable, proven approach to address pandemic learning loss and accelerate learning." As we prepare for the upcoming school year, the Lana Learn team is reflecting on what makes an effective high-impact tutoring program.
High-impact tutoring works by adding to, rather than replacing, a student's curriculum. This method of tutoring is proven to lead to notable student development. Student growth is dependent on data use, instruction, tutors, and learning integration. Effective instruction, which should be data driven, must make use of high-quality materials. Frequent sessions with small class sizes and a consistent, well-supported tutor are essential for successful tutoring.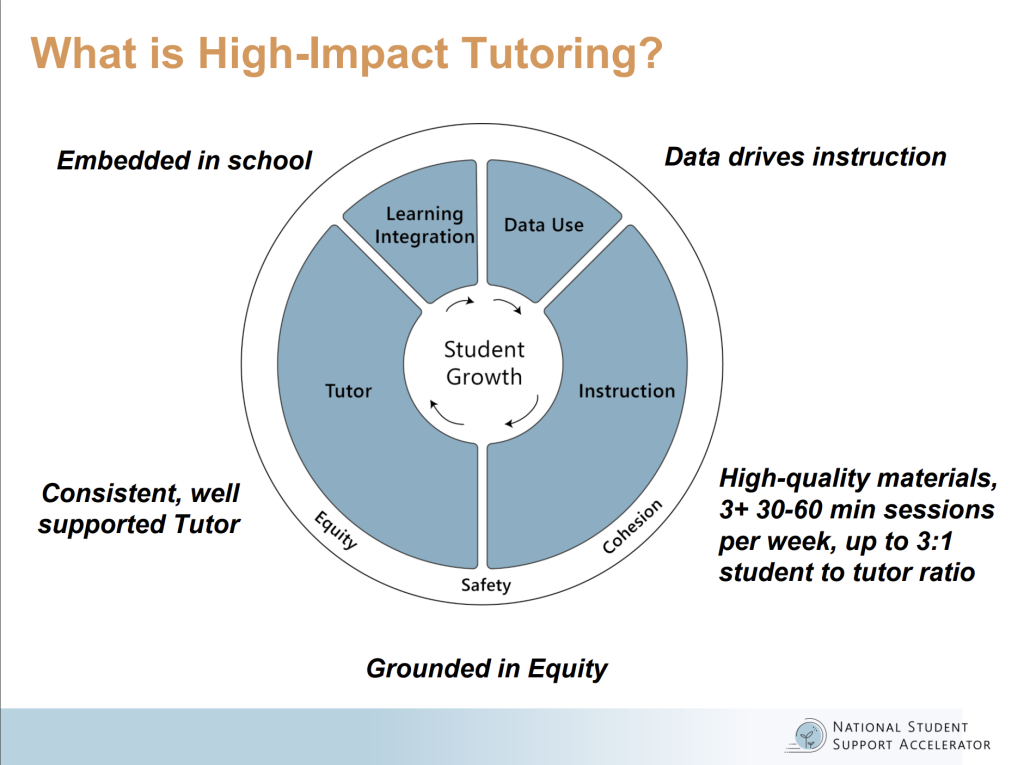 High-impact tutoring bridges learning gaps, boosts student confidence, and fosters academic success. In this blog post, we'll explore seven elements proven to be critical for an effective HIT program.
1. Targeted Student Assessment
The foundation of any successful tutoring program lies in identifying and understanding the specific learning needs of the students. It's crucial to conduct comprehensive assessments to determine individual learning gaps and areas requiring improvement. By utilizing pre-tests and other data-driven methods, tutors can tailor their support to effectively address each student's unique requirements.
2. Exceptional Tutors
The success of a tutoring program hinges on the quality of its tutors. Qualified educators, college students, or community volunteers with expertise in the relevant subjects are necessary. Equally crucial is providing them with comprehensive training on tutoring strategies, classroom management, and fostering a positive and supportive learning environment. Properly trained tutors can make a significant impact on students' academic growth and self-confidence.
3. Personalized and Flexible Tutoring Sessions
Effective tutoring programs prioritize personalized attention and adaptability. Students learn at different paces, so tailoring sessions to meet individual needs is vital. Additionally, offering flexible scheduling to accommodate extracurricular activities or other commitments ensures maximum participation and commitment from students. It's also important to be mindful of school provided or public transportation schedules since not everyone has access to private transportation.
4. Collaborative School Partnerships
Strong collaboration with the students' schools is essential to a HIT program's success. Working with school administrators, teachers, and counselors to identify students who would benefit most from tutoring support is one of the first steps. Establishing clear communication channels to provide progress updates and address any challenges that may arise during the program is also important.
5. Monitoring and Evaluation
Regular monitoring and evaluation are crucial to gauge the program's impact and identify areas for improvement. Collecting data on students' academic progress, confidence levels, and attendance rates will help measure the program's effectiveness. This information can be used to adjust tutoring strategies and further enhance outcomes.
6. Parental Involvement
Parental involvement is a powerful catalyst for student success. Engage parents by keeping them informed about the tutoring program's benefits and their child's progress. Encourage open communication and solicit feedback to ensure a collaborative approach towards improving student learning outcomes.
7. Resources and Enrichment Activities
Beyond academic support, offering additional resources and enrichment activities can enrich students' learning experiences. Access to educational materials, online resources, and workshops can further enhance their knowledge and skills.
In summary, implementing a HIT program is a tremendous opportunity to empower students and foster academic achievement. By incorporating the seven components above, the initiative can have a profound and lasting impact on students' educational journeys and create a brighter future for them and their families.